A hut steeped in history
The Bechergipfel (Becher Summit) was first climbed by C. Langbein together with D. and J. Pfurtscheller on the 23rd of August 1886.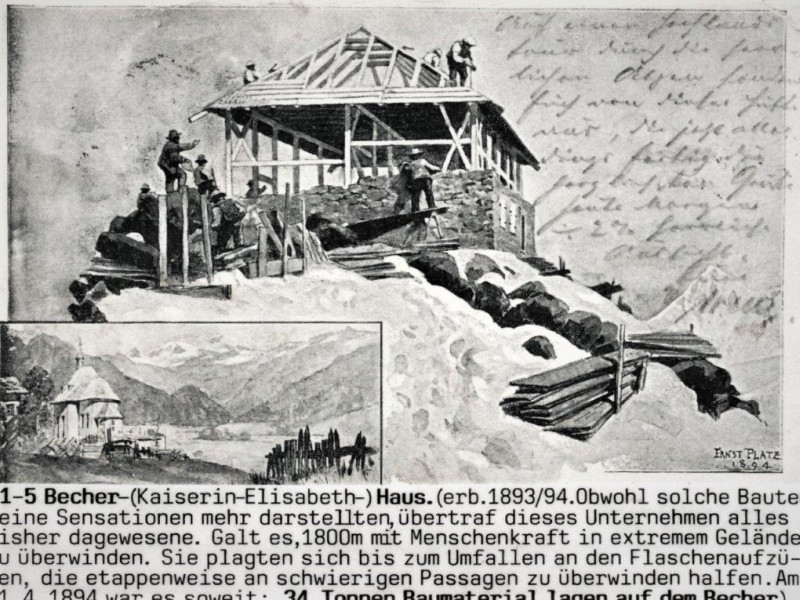 Six years later, Karl Arnold, the then Chairperson of the DÖAV (German and Austrian Alpine Club) Hanover section, stood on the summit for the first time and thus the idea to erect a refuge on the rock was born. In January 1893, the Hanover section decided to proceed with the construction. To say thank you to the Prussian-Bohemian sections for their support, the refuge was christened "Empress Elisabeth Schutzhaus".

Stefan Haller, an innkeeper from Ridnaun, and Johann Kelderer, a master carpenter from Pflersch, were mainly responsible for the construction. Stefan Haller, the first innkeeper of Ridnaun, most notably organised the material transport, looked after the workforce and built them accommodation in Ridnaun, which is today's Sonklarhof.

Responsibility for constructing the hut was assigned to Johann Kelderer, who had already erected the Magdeburgerhütte and Tribulaunhütte. The hut itself was already built in the valley and then dismantled again, before being reconstructed piece by piece on the Becher rocks. This entailed using a mix of transport sledges, constructed brake tracks, and muscle power of the local population.
The actual construction phase began in March 1894 and, despite the early onset of winter, was completed in August 1894. The inauguration finally took place as planned on the 18th of August on the birthday of Emperor Franz Joseph.

The hut was extended between 1900 and 1910. In 1922, the hut was occupied by the military and the section was expropriated by the Italian state. This endured until 1979.

In 1987 and 1989 the refuge was enlarged and subsequently managed by CAI Verona.

In 1999, the Becherhaus, together with 25 other South Tyrolean refuges expropriated by the Italian state, were passed over to the Autonomous Province of Bolzano - South Tyrol. The province of South Tyrol has been leasing the refuges to hut wardens since 2010. The hut is currently undergoing a complete renovation in order to make your stay as comfortable as possible.